Hello, everyone!
Sorry for not posting the past couple of weeks, I didn't want to spam you guys by making a post every two days or so, especially with nothing to show—it's all writing.
I made this post just to say I'm still alive, but I wouldn't want to leave you guys with nothing to look at.
Here's a fake screenshot I made, with a background made by me, of course. The planned resolution size is 1280×720, so rev up your screens. The GUI is going to be fairly simple like the name and no side-sprites. The text will not look like that—it only looks like that because SAI cannot do text, I didn't want to open up Photoshop, and Paint was sitting right there.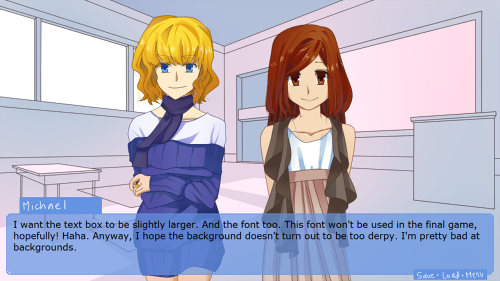 I was also busy doing Ludum Dare with my friends, so there was that too. I don't think Maelstrom wants me to show it, so I won't for the time being.
Enjoy the rest of your day!